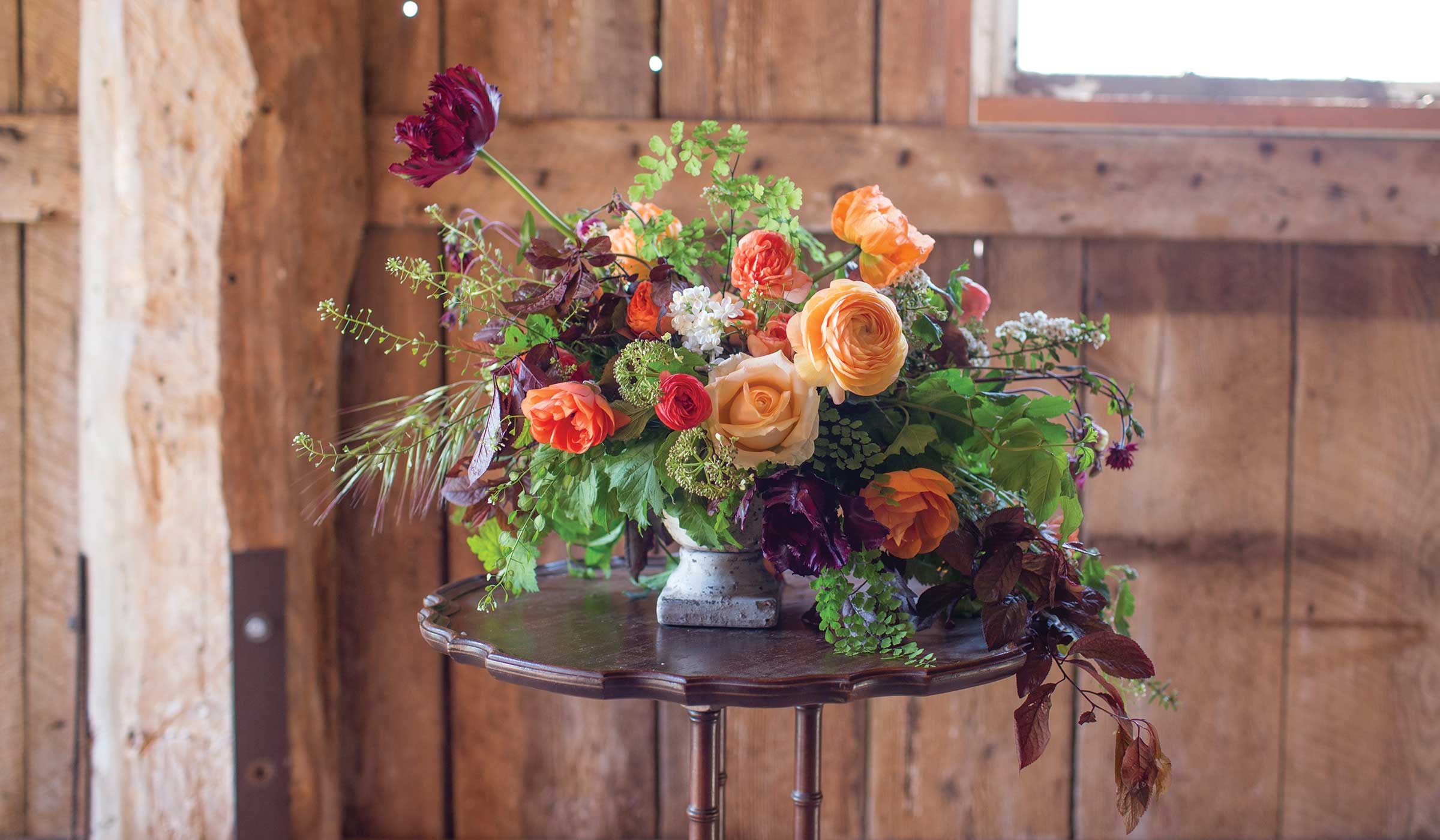 "Not only was everything exactly what we had in mind, but you and the team were also incredible to work with. I was so grateful and happy with how calm, reasonable, and talented you are at what you do.
I also wanted to work with a local farm that values sustainability; so I'm happy to have stumbled onto Front Porch Farm."
Zoe's flowers infused our wedding with magic! I was amazed at how Zoe helped us express the values of our wedding through her craft. As my now-husband and I explored how we would join our Filipino and Indian roots together, we knew we wanted to invite in warm colors and plants that were significant to us, but didn't have a clear game plan. Zoe brought this half-realized vision into life, using her vibrant, local and seasonal flowers (and even some gorgeous unripe fruits!). She uncovered what was most important to us, and brought it our in the details - from crafting an exquisite hairpiece and bridal bouquet of flowers and berries, to adorning the ceremonial arch in a way that uplifted the bountiful and vibrant feeling of the wedding. Our guests came from all over the state and the country and absolutely loved the flowers. We heard so many compliments on how beautiful and creative they were.
Zoe's flowers are not only stunning, but are also grown in ways that respect the soil, water, and people's health. My husband and I both deeply care about the environment, and it meant the world to know there are people like Zoe who are deeply committed to creating beauty - all while transforming the (often toxic) floral industry for the better. On top of this, Zoe is an absolute dream to work with. She made the planning process so smooth, and radiates warmth, kindness, and a joyful spirit. She has a keen ability to put anyone and everyone at ease in her presence. I can't recommend her (and her floral services) enough. We love Zoe!
So, to the event. HOLY CRAP, when I walked into the boat house my breath was taken away. Those floral arrangements were better than I had hoped for. You really took our vision and took it to the next level. I wish the flowers could stay alive forever! My friends LOVED the addition of the berries. And the ceremony arrangements in those large planters, so beautiful. I can't wait for more pictures to come through. And all of the vases you chose, they really matched the aesthetic we were going for.
I could really go on forever on the flowers. Thank you so much for helping us create something so beautiful.
Simply put, Zoe is amazing. She is extremely talented, creative, professional, and wonderful to work with. We had some general ideas for what we wanted our wedding flowers to look like -- pops of color and a more wild and free look -- and Zoe brought them to life more beautifully than we could have imagined. The arch she designed for our ceremony was absolutely stunning, and some of my favorite photos from the wedding are the shots of the beautiful buds and fruits she placed on each of the dining tables. I would work with Zoe again in a heartbeat.